Less crude protein in the diet of dairy cattle can actually improve nitrogen efficiency and ultimately result in both economic and environmental benefits.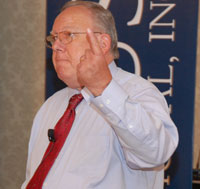 That was the message at a seminar sponsored by Novus International today at the Sheraton next to World Dairy Expo. Dr. Larry Chase with Cornell University presented some compelling findings that indicate the traditional 18% crude protein dairy diet could be lowered with very positive results.
"At the tissue level, what you really need are amino acids as the building blocks for maintenance, growth, lactation, reproduction," said Dr. Chase. "So we really need amino acids, not protein per se." His work shows that there is a point where more crude protein in the diet is literally wasted in the animal, resulting in more manure and urine output, not more milk output – and protein is expensive. "We don't want to spend a lot of money to make better quality manure," he said.
Dr. Chase believes that producers could ultimately reduce CP in their rations by two percent or more with no drop in milk production. "Practically, I think a lot of herds can get down towards 16 percent or slightly under," he says. It does mean that produces need to strike a delicate balance in their rations, stressing metabolizable protein rather than crude protein with amino acids and energy sources, but the payoff can be significant. "What we found in field trials is if we reduce the protein being fed in excess of requirement, we save the farmer money and lower excretion in the environment without hurting milk production."
Find out more from Dr. Chase here: Dr. Larry Chase Interview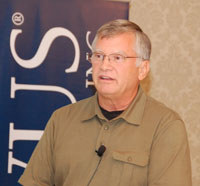 When Dr. Bob Stoltzfus with Lancaster Veterinary Associates in Lancaster, Pennsylvania heard about Dr. Chase's research a few years ago, he was intrigued enough to try it himself on a real operation, resulting in what he calls a "transformation" from a conventional diet to a lower CP diet. "I went from an 18.3% crude protein diet in 2007 to a 16.2% crude protein diet in 2010," he said. "Production was not affected by it, components were not affected by it, there are changes in the diet that you do, but the bottom line is that you excrete less nitrogen into the environment and in a 200 cow herd we made them about $22,000 per year."
The financial incentive should be enough for producers to at least give it a try now, before they are forced to by environmental regulations. "Certainly in my area, in the Chesapeake Bay watershed, it's going to be mandated and probably enforced by the EPA in the very near future, that farms have feed management plans which involve the inputs into the cows that ultimately result in waste in the manure in the form of nitrogen and phosphorus," he said.
He recommends that producers who are interested in trying a lower crude protein diet work with their nutritionist to find the right balance in the diet to make it work.
Listen to my interview with Bob here: Dr. Bob Stoltzfus Interview
2010 World Dairy Expo Photo Album