Roundup Ready alfalfa could be headed back to a field near you by next spring.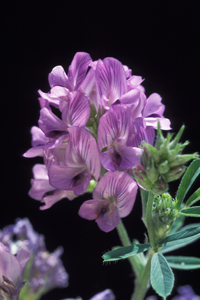 On Thursday, USDA released the long-awaited final environmental impact statement (EIS) that evaluates the potential environmental effects of deregulating genetically modified alfalfa resistant to Monsanto's Roundup herbicide. Announcing the EIS, Agriculture Secretary Tom Vilsack said they are considering two possible alternatives for deregulation of the crop.
"The two preferred alternatives selected in the final EIS are deregulation as one option, and the other deregulation accompanied by a combination of geographic restrictions and isolation distances on the production of GE alfalfa seed and, in some locations, on GE hay. These measures would help to protect the production of non-GE alfalfa seed," Vilsack said. A final decision will be made by USDA's Animal Plant Health Inspection Service (APHIS), but not for at least a month.
Needless to say, Monsanto was pleased with the news. "Farmers have been waiting a long time for the choice to use Roundup Ready alfalfa and realize the dependable weed control that it offers," said Steve Welker, Monsanto alfalfa lead. It has been three years since an injunction in 2007 by a federal district court stopped the sale and planting of Roundup Ready alfalfa seeds until USDA completed an EIS. Roundup Ready alfalfa (RRA) originally went on the market with the approval of USDA in 2005.
Forage Genetics International, co-developer of RRA, was also happy that the EIS is finally done and that some type of deregulation is imminent. "When the USDA makes a decision about deregulation of RRA, Forage Genetics International will be ready to sell RRA seed to growers," said president Mark McCaslin.
The companies and supporters of RRA say the benefits of the genetically modified alfalfa are both economic and environmental, with a reported $110 per-acre advantage over conventional alfalfa and requiring less use of crop protection chemicals. Detractors fear GMO alfalfa will crossover fields and contaminate the feed for organic dairy cows. An attempt to appease both sides would be the compromise approval placing certain restrictions on where the crop can be grown.