Farm Journal Media is offering a series of in-depth educational programs and events co-located at the AG CONNECT Expo that starts Friday at the Georgia World Congress Center in Atlanta.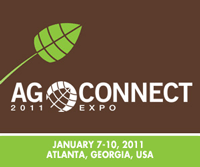 Sunday morning's Farm Journal Media Presents is devoted entirely to the dairy industry with a Dairy Today Forum: Meeting Dairy Challenges: In the Parlor, In the Field, In the World. The cost is $49 for the 9 am to 12:00 noon event that includes sessions on BMR Forage Sorghum: Opportunities and Challenges; Making Milk Quality Simple; and Dairy's Brave New Exporting World.
There are even more educational opportunities at this second AGCONNECT EXPO – including breakout sessions, the Progressive Farmer Innovations Theater,and new Town Hall forums.
To find all the educational opportunities, use the handy search function on the AG CONNECT website to create a customized agenda based on your own personal interests.
Hope to see you in Atlanta starting Friday for AG CONNECT, followed by the American Farm Bureau Federation annual meeting.