The founder of an inner-city food science lab received special recognition in the World Dairy Expo Championship Dairy Product Contest during the awards reception and auction Tuesday evening.
Pastor Clinton Bush, founder of City Kidz Ice Cream Cafe in Jacksonville, FL was presented a special award for his organization's Philly Vanilla ice cream entry in the contest, which won second place in its division. "Normally we don't give special recognition to second and third place winners during the awards reception," said Brad Legried of the Wisconsin Dairy Products Association, which sponsors the competition. "But Pastor Bush and the young people of City Kidz Ice Cream Cafe deserve the notice."
Bush founded City Kidz Ice Cream in 2006 to foster financial literacy in inner-city communities and the group provides young people the opportunity to work in a dairy manufacturing plant and learn how to pursue career paths. The group received a special award from the competition and the 15 young people who helped manufacture their "Philly Vanilla" ice cream entry will all received special merit certificates.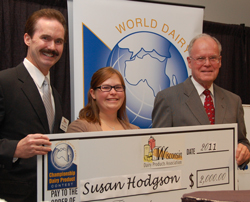 "I think we all have a moral obligation to make sure we preserve our food industry, especially our dairy industry, because America has always been the global leader in food science," Pastor Bush said, noting that the ice cream the students created is heading for supermarket shelves in the near future.
Listen to Pastor Bush's comments here: Pastor Clinton Bush
Speaking of the future, a $2000 scholarship was also awarded at the event Tuesday evening. UW-Madison student Susan Hodgson received the sizable check to pursue her dairy-related studies.
The Championship Dairy Product Contest had over 700 entries this year. It's the only contest of it's kind in North America because it includes all dairy products. This year there were 74 classes for ice cream, cheese, yogurt, fluid milk, cottage cheese, whey, sour cream, butter, etc.
2011 World Dairy Expo Photo Album
World Dairy Expo coverage sponsored by Charleston Orwig Dairy Business Association Alltech Hoard's Dairyman Accelerated Genetics