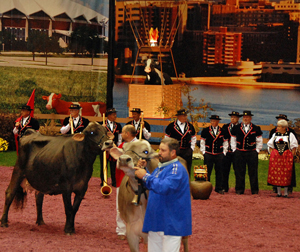 It's a tradition for the selection of the grand champion Brown Swiss at World Dairy Expo to be accompanied by classical Swiss music and dress, complete with yodeling, alphorn blowing, and cowbell ringing. Pictured in the foreground here is Dublin-Hills Treats owned by Peter Vail and Ken Main of Copake, NY walking in front of the New Glarus Jodlerklub just before being named the 2011 Grand Champion.
After we saw some of the performance by the 80-year-old yodel club that hails from New Glarus, Wisconsin, we happened to catch up with a couple of the members walking around the expo ringing their gigantic cow bells, which they say came from Switzerland where they were worn by lead cows as they were moved from one pasture to another.
Watch the Jodlerklub in action and enjoy a very impromptu interview with yodelers Ernie Jaggi, Roberly Williamson and Dwight Truttman.
2011 World Dairy Expo Photo Album
World Dairy Expo coverage sponsored by Charleston Orwig Dairy Business Association Alltech Hoard's Dairyman Accelerated Genetics