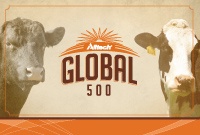 In just two and a half weeks Lexington, Kentucky will once again open it's doors to dairy farmers and beef producers from across the world. These agriculturalists are coming together for Alltech's Global 500. The Alltech community offers an opportunity to find answers to your questions.
What are the modern challenges of animal production?
Where to invest?
How to target performance and profitability?
What is the future of farming?
Can sustainability be achieved?
I am excited to attend this years event and during the National Association of Farm Broadcasting's Trade Talk I had a chance to talk with David Butler, Web Marketing Manager for Alltech. He offered insite to the upcoming event and shared what hot topics will be discussed.
"Global 500 is unique because we have progressive dairy farmers and beef producers from all over the world that come to Lexington, KY to spend three days. They get to hear some great speakers, some real industry experts, but more than that we have discussion dinners where they can share ideas and share some challenges. An opportunity for US dairy farmers to find out how their colleagues in Europe are dealing with some of the environmental regulations there that we may see here eventually."

"Cow comfort, of course is always a big thing. Mycotoxins are a big issue this year because of the drought in the US. We will be talking about ways to manage that. And things like mineral execration and other sorts of challenges that make it really tough for farmers, especially with large herds."
Alltech is also holding a Farms In Focus photo contest to be judged during Global 500. Snap a photo of what dairy farming means to you and submit at Alltech.com/farmsinfocus. Share via Facebook and Twitter, get all your friends to vote during the event for a chance to win $300.
Listen to my interview with David here: David Butler - Alltech