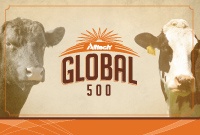 It is just a week before Alltech's 5th Annual Global 500 kicks off. Dairy and beef leaders from across the world will come together to share ideas and educate themselves on new and cutting edge technologies.
They are expecting over 500 dairy producers to attend this year's event. Robert Brouwer, owner of a 2,800 cow diary in New Mexico, has attended the event every year since it's beginning.
"This is a must attend event for me. Alltech continues to outdo themselves with timely and relevant topics, presented by great speakers," Brouwer said. "It is also great to meet and interact with dairymen from across the world. The event gives me new ideas and provides an opportunity to see things from a global perspective."
This year's agenda will feature presentations on branding milk, social media, employee training, decreasing carbon footprints and mycotoxins as well as many presentations that will address the core theme for the event, the EPS principle: Efficiency, Profitability and Sustainability.
"As the global demand for dairy products continues to grow and our climate becomes less and less stable, the pressure to innovate is on the shoulders of today's farmers. However, the question of how to remain profitable is a question that does not have a clear answer anymore," said Dr. Pearse Lyons, president and founder of Alltech. "Branding is much more important now as consumers are developing strong loyalty to brands and are more concerned about the origin of their food. Our answers must address efficiency, profitability and sustainability."
I am excited to attend this years event and during the National Association of Farm Broadcasting's (NAFB) Trade Talk I had a chance to talk with David Butler, Web Marketing Manager for Alltech. He offered insite to the upcoming event and shared what hot topics will be discussed. Check my interview with David here.
Also during NAFB I spoke with Ann Kopecky, Alltech's North America Field PR Coordinator, about Alltech's recent launch of their 37+ Program. This new mass spectrometry technique investigates 38 different mycotoxins allowing for a broader analytical approach into the contamination.
Listen to my interview with Ann here: Ann Kopecky - Alltech