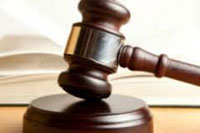 A new ruling issued today by a federal appeals court places a nationwide stay on the Environmental Protection Agency's Clean Water Rule, better known as Waters of the U.S. (WOTUS).
The court agreed with petitioners that the treatment in the rule of tributaries, "adjacent waters," and waters having a "significant nexus" to navigable waters is at odds with a previous Supreme Court ruling and that "it is far from clear that the new Rule's distance limitations are harmonious with the instruction."
In addition, the ruling called EPA's rulemaking process "facially suspect" because it did not include any proposed distance limitations in its use of terms like "adjacent waters" and significant nexus."
National Cattlemen's Beef Association president Philip Ellis says the ruling is great news for livestock producers and all land users. "A stay by the Court has the same effect as an injunction, and this action prevents the EPA and Army Corps from implementing this disastrous rule across the country. In granting the stay, the majority of the Court sided with the states that the rule likely fails on both substantive and procedural grounds," said Ellis.
"The court rightfully stopped implementation of this massive federal land grab and confusion across the country until the numerous lawsuits against it can be resolved," said National Pork Producers Council President Dr. Ron Prestage. "The WOTUS rule is vague and fails to let regulated parties know when their conduct violates the law."
A three judge panel for the U.S. Court of Appeals for the Sixth Judicial Circuit voted 2-1 to stay implementation over concern that burden to state and federal government, as well as private parties and the public in general, from the implementation of the WOTUS rule outweighed any harm to the agencies in keeping the status quo.