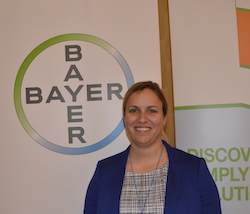 Engaging youth in agriculture is an important part of fueling the future of the industry, and a presentation surrounding this necessary, complex concept took the spotlight during the 2017 Bayer #AgVocacy Forum last week.
One of the presenters was Bev Flatt, a young farmer from Tennessee who seeks to share her passion and knowledge of farming with other young people.
Flatt only began farming two years ago, when she and her husband started Flatt Rock Farms. The couple raises beef cattle, meat and dairy goats, chickens, horses, and honeybees. She also supports the Metro Nashville Public High School System, where she works with four specific agricultural education programs.
"We really have a great time together helping young urban students understand where their food comes from and how they can be involved in agriculture moving forward," said Bev in an interview with Lizzy during the forum.
Flatt also served as one of the U.S. delegates at the 2015 Youth Ag-Summit in Canberra, Australia. The Summit was part of a partnership between Bayer Crop Science and the Future Farmers Network in Australia that brought 100 young adults from 33 different countries around the world together for discussion about the different food security struggles and challenges each country is facing and how each country can use their unique experiences to help our world come together to ensure a food secure future.
Flatt brought home an increased understanding of three small, important concepts that she has applied to her hometown in an effort to help improve agriculture in the U.S. and empower others in the industry.
"Since leaving Canberra, I've been focused on getting more involved in rural and youth leadership in my community, being more focused and aware of the food waste that occurs in my home, and working on exposing youth to agriculture and the producers that feed the world," she said.
Her work in these areas has exploded with progress, and her efforts to bring producers into school cafeterias around the Nashville area recently transformed into a $40,000 grant to start a farm-to-school program in the Nashville area.
"Individually, we may not have a huge impact, but the collective impact could definitely change the future of the agricultural industry and how we feed the world," she said.
Listen to Lizzy's full interview with Bev here:
Interview with Bev Flatt, Flatt Rock Farm