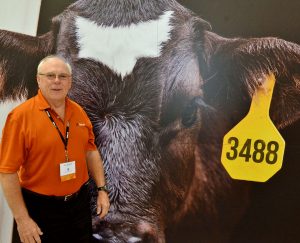 Cow comfort is priority for Tom Lorenzen, dairy specialist with Alltech. Lorenzen visits dairy farms with the goal of looking for problem areas and finding solutions when it comes to the basic needs of the animals.
"Cows don't lie," says Lorenzen. "I look and listen to the cows."
Lorenzen says clean water and a full feed bunk after milking are important to keeping cows happy and healthy. He took the opportunity during the 2017 World Dairy Expo to share some priorities when it comes to cow comfort, including correct free stalls, proper ventilation and adequate parlor space.
Listen to Jamie's interview with Tom Lorenzen here: Interview with Tom Lorenzen, Alltech