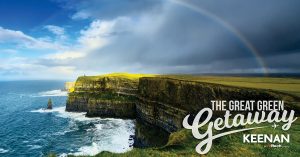 For three U.S. dairy producers, the luck of the Irish was on their side when their names were selected in a live, random draw for The Great Green Getaway sweepstakes as the 2017 World Dairy Expo wrapped up in Madison, Wisconsin.
In March 2018, Ashley Irvin, Tennessee; Hans Greisen, Wisconsin; and Mary Van Rossum, Wisconsin, will embark on a journey to the Emerald Isle for a "how it's made" tour of the KEENAN production facility in Borris, County Carlow, Ireland, a guided VIP experience at the new Pearse Lyons Distillery, visits to a number of high-performance Irish dairy farms and St. Patrick's Day celebrations in Dublin City Centre.
"We are looking forward to hosting The Great Green Getaway sweepstakes winners in Ireland and sharing the Alltech and KEENAN Irish heritage," said Dan Gard, sales manager for KEENAN USA. "Our customers trust our KEENAN mixers for their durability, flexibility and longevity, and these winners will get to see them in the factory as well as on-farm in Ireland."
The sweepstakes opened June 28, 2017, during National Dairy Month, and the winners were announced on Oct. 7, 2017, at World Dairy Expo in Madison, Wisconsin. The contest was open to U.S. dairy farmers who have 50 cows or more and are over 18 years of age.