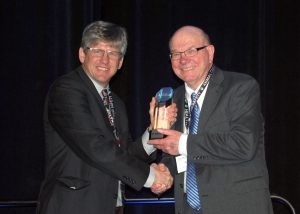 The National Pork Board last week awarded former Iowa State University animal science professor at Tom Baas the Distinguished Service Award during the National Pork Industry Forum in Kansas City. The award is presented each year to recognize an industry leader's lifelong contribution to the pork industry.
"Tom has provided extraordinary leadership to the pork industry," said National Pork Board President Terry O'Neel, a pork producer from Friend, Nebraska. "Through the years, he worked tirelessly for the advancement of the pork industry and mentored numerous students at Iowa State University."
Baas grew up in Kossuth County, Iowa, graduating high school in West Bend. He earned his bachelor's degree in animal science and later his master's and Ph.D. all from Iowa State University. Baas worked in various aspects of the pork industry, including with the Duroc Swine Registry and on his own farm raising pigs, before he became a mainstay at Iowa State University as an animal science professor and advisor.
Learn more about Tom in this interview from Pork Forum:
Interview with NPB Distinguished Service Award winner Tom Baas
(photo courtesy of National Pork Board)