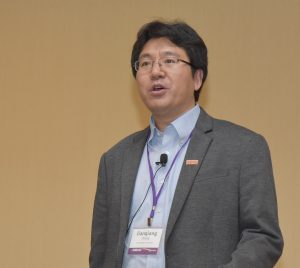 Scientific breakthroughs in the way a virus can be isolated from diagnostic samples are improving the development of vaccines to fight porcine reproductive and respiratory syndrome (PRRS) virus.
The success rate was not good when the virus was isolated in traditional simian (MARC-145) cells. The Iowa State University Veterinary Diagnostic Laboratory is working with Aptimmune Biologics, Inc. to use the porcine alveolar macrophage (ZMAC) cell line instead. Dr. Jianqiang Zhang said that has been much more successful.
"So basically we have one more tool to improve this PRRS virus isolation diagnostics and then can better serve veterinarian requirements and also it's good for the swine industry to combat against PRRS," said Zhang, who is a diagnostic virologist with a focus on swine medicine.
That higher success rate can provide the isolation needed from diagnostic samples to include the most relevant strains in PRRS vaccines. Zhang shared the advancements at the 2018 Aptimmune Scientific Symposium in San Diego.
Listen to Chuck's interview with Dr. Zhang here: Dr. Jianqiang Zhang, Iowa State University