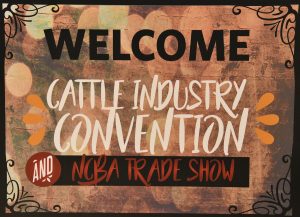 The Big Easy is the place to be this week for nearly 8,000 cattle industry professionals who were ready to GEAUX for the official start of the 2019 Cattle Industry Convention & NCBA Trade Show Wednesday.
"Every year the Cattle Industry Convention & NCBA Trade Show hosts members from every segment of the beef industry," said NCBA President Kevin Kester of California. "Not only is the event a great opportunity for attendees to network and learn about the newest technology and science to improve their operations, but it's also when we set our policy priorities for the next year."
Hall of Fame NFL quarterback Terry Bradshaw delivered the keynote address at the Opening General Session, which was followed immediately by the opening of a 6.5-acre trade show. Highlights this week include the D.C. public policy issues update, NCBA policy committee meetings, the "Mardi Gras Masquerade" hosted at Mardi Gras World, Agriculture Secretary Sonny Perdue at the closing general session on Friday, and the Cowboy Concert Series featuring music stars Big and Rich.
The Convention will wrap up Saturday morning with a meeting of the NCBA's Board of Directors, where official public policy positions will be set for the coming year. In this interview, Kester talks about some of the big issues for the organization this year. Interview with Kevin Kester, President, NCBA
2019 Cattle Industry Convention & NCBA Trade Show Photo Album
Find photos and audio from the event in the official Cattle Industry Convention and NCBA Trade Show virtual newsroom