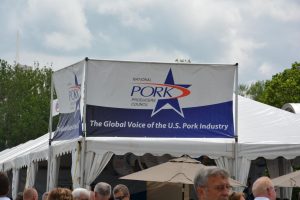 National Pork Producers Council officials held a press conference Thursday, the day after announcing World Pork Expo is cancelled this year due to concerns about African swine fever.
More than 100 pork producers from around the country were in Washington D.C. this week for the Spring Legislative Action Conference to meet with their representatives in Congress to discuss issues such as trade, animal disease preparedness and agriculture's labor shortage.
"Prevention is our best defense against an animal disease like African swine fever for which no vaccine exists," said NPPC president David Herring of North Carolina. "For a disease like Foot-and-Mouth disease, which would also close U.S. pork's export markets, prevention is also critical. Should an outbreak occur, a vaccine bank will allow us to quickly contain the disease."
Producers also discussed two solutions to mitigate the risk of animal disease in the United States: 1) appropriations funding for 600 new U.S. Customs and Border Protection agriculture inspectors to further strengthen defenses against African swine fever (ASF) and other animal diseases and 2) to sign a letter of support that calls for the USDA to implement the Farm Bill as intended, including development of a Foot-and-Mouth Disease vaccine bank.
Here is the first part of the press conference with Herring and other NPPC representatives:
NPPC press conference 4-11-19