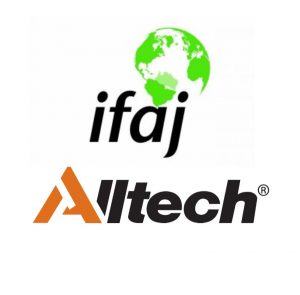 The International Federation of Agricultural Journalists (IFAJ) has announced the recipients of this year's IFAJ/Alltech Young Leaders in Agricultural Journalism Award. The program honors 10 young agricultural journalists and communicators who have demonstrated outstanding achievement in reporting as well as excellent potential as leaders of the industry in the years to come. The honorees were chosen by an international jury among applicants from many of IFAJ's 50 member countries.
This year's IFAJ/Alltech Young Leaders are:
Prince Appiah, Multimedia Group, Ltd., Ghana
Moses Bailey, Radio Gbarnga/The Bush Chicken, Liberia
Kasey Brown, Angus Media, United States of America
Marzell Buffler, Landmedien Deutschland, Germany
Melissa Dahlqvist, Swedish Agro Machinery, Sweden
Seedy Darboe, Network of Ag Communicators, The Gambia
Louise Denvir, RTÉ, Ireland
Abi Kay, Farmers Guardian, United Kingdom
Samantha Tennent, Dairy NZ, New Zealand
Angus Verley, Australian Broadcasting Company, Australia
The 10 honorees will attend the 2019 IFAJ Congress in Minneapolis, Minnesota, USA, in July. The Young Leaders will also participate in a Boot Camp in the days prior to Congress, which includes professional development and networking workshops and farm visits in southern Minnesota.