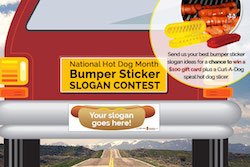 Americans are expected to eat more than 150 million hotdogs over the July 4th weekend, appropriately kicking off July as National Hog Dog month.  Independence Day will be celebrated with fireworks and more hot dogs than any other time of the year– enough to stretch from D.C. to L.A. more than five times.
"There's no better way to celebrate America's birthday than with the all-American hot dog," said Janet Riley, National Hot Dog and Sausage Council president and 'Queen of Wien.' "No matter how you top it, the hot dog is the food that everyone craves to make the Independence Day weekend complete."
To celebrate the National Hot Dog and Sausage Council (NHDSC) is offering fans and chance to win hot dogs and other prizes by creating a bumper sticker slogan.  Hot Dog enthusiasts can submit up to three clever slogans to contest@hot-dog.org by Junly 10.  Finalist slogans will be featured on the Facebook page, where fans will vote for their favorite.  The winner will be announced on July 22, National Hot Dog Day.
"Hot dogs aren't just great for backyard barbecues, they're also great road trip food, so we decided to combine these two American pastimes," said Riley. "With the bumper sticker, people can share their hot dog love wherever they go."
The person who submits the best bumper sticker slogan will win a $100 gift card for their favorite hot dogs plus a Curl-A-Dog spiral hot dog slicer. Second place wins a $50 gift card for their favorite hot dogs. The top three choices will all win NHDSC t-shirts and a bumper sticker with the winning slogan. Full contest guidelines and rules are available at http://www.hot-dog.org/media/contests.
To see how hot dogs are made, review an etiquette guide, read hot dog history, and learn trivia visit the website.