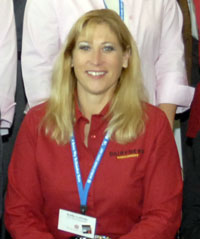 The International Forum for Women in Dairying will be holding its global dairy conference prior to the 2008 World Dairy Expo according to Kathy LaScala, chairperson.
Kathy was on hand for our media talk session so I asked her what this is all about. She says you can find out more on their website. The dates are September 28 & 29, 2008 at the Madison Concourse Hotel.

Kathy says the conference will feature many speakers and plenty of opportunities for women to network with each other since they face the same challenges regardless of what country they're from.
Listen to our "Milking Parlor" podcast with Kathy here:

Interview with Kathy LaScala (MP3)
To subscribe to the Milking Parlor podcast, here are some instructions.
2007 World Dairy Expo Photo Album
World Dairy Diary coverage of World Dairy Expo is sponsored by: