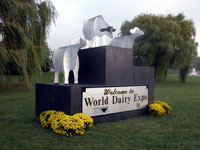 I promised I'd provide you with an online photo album from World Dairy Expo and I finally got it done. I took 262 photos during Expo and uploaded 201 of them. So there's a lot to look at. Many of them were posted to World Dairy Diary but these are larger and unedited.
This link – World Dairy Diary Photo Album – will take you to the Flickr photo album. You can look at them individually or as a slideshow. You can download them too. If you use them, just give us credit please.
I hope you enjoy them. It was fun taking them.