World Dairy Diary coverage of World Dairy Expo is sponsored by:





Holstein dairy cattle continue to be the leading breed in the dairy industry and the Holstein industry has also been breeding leaders in the agribusiness industry as well through the Holstein Foundation's Young Dairy Leaders Institute (YDLI).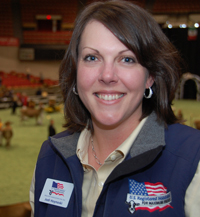 Jodi Hoynoski with Holstein Foundation and Holstein Association USA says they are planning for the seventh YDLI class. "It is a two year, intense leadership training program," Jodi told me. "There's three phases for the program. The first phase is dedicated to developing individual skills, learning more about who you are, a bit media training to help them speak up more for agriculture."
Phase two is a year of "homework projects" promoting the dairy industry and agriculture. Phase three, everyone gets back together for more advanced teamwork skills, board member training, more media training and affecting public policy. She says that graduates of the program have gone on to become influential movers and shakers in the agribusiness industry – like Mike Opperman with Charleston Orwig who was in the very first graduating class!
Jodi says applications are due next summer for the next class that begins in February of 2011. Sign up to receive an application from a link on the front page of the Holstein Foundation website.
Listen to or download an interview with Jodi from World Dairy Expo here: