Hoard's Dairyman is celebrating a milestone this year that few can claim these days – 125 years of serving readers.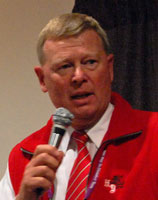 "It's been a very interesting year for us from the standpoint of celebrating our historic anniversary and secondly, positioning ourselves for the future," Director of Marketing Gary Vorpahl told me during an interview at World Dairy Expo.
Part of the publication's longevity can be attributed to diversification and changing with the times. "We're Twittering and Facebook and Linkedin," Gary says. "We've got three divisions of the company – a newspaper division which is comprised of one daily and 12 weekly newspapers, a commercial printing division where we print everything from last year's Super Bowl program to high end magazines for shopping centers, and then we have a magazine division, which is comprised primarily of Hoard's Dairyman, but is also another group of track and field magazines."
First and foremost, however, Hoard's is the dairy industry's leading dairy publication, which was started in January 1885 by W.D. Hoard, the former governor of Wisconsin who was instrumental in making the state the dairy leader it is today. Gary says the publication will continue to evolve and remain relevant. "The print magazine will continue to be valuable but the way we deliver it will probably change as more and more high speed internet is available it will offer us more opportunities to do things in video, more extensive types of podcasting and learning modules," he said.
Listen to my interview with Gary here. Gary Vorpahl Interview
Here is a little video history that Hoard's did to commemorate 125 years:
2010 World Dairy Expo Photo Album