Dairy is more than just one of the basic food groups for Wisconsin-based communications and marketing agency Charleston-Orwig, it's really the life blood of the firm.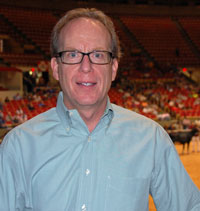 That includes both the people who work in the company and the clients they serve, according to president Mark Gale. I interviewed him this week at World Dairy Expo in the agency suite overlooking the show arena. "We have people who grew up in dairy, people showing cows here, people who go home and work on family dairy, people very involved in agriculture. It's not just their job, they are actually in the industry themselves," Mark says about the agency's team. The company has about 64 employees and was voted one of the best places to work in the state of Wisconsin last year.
The agency's intimate knowledge and involvement in the dairy industry allows them to relate very well with clients like Alpharma, Arm & Hammer, Novartis and Hoard's Dairyman – just to name a few. "We're focused very much on agriculture and increasingly in the food industry, that kind of gate to plate segment, and the issues that agriculture and the food industry are facing now," said Mark. About 85 percent of their clients are in the food and agriculture industries.
Mark says the agency business has made some dramatic changes in the past few years with the advent of social media and he is proud that Charleston-Orwig has been on the forefront of using these new tools to communicate. In fact, one of their first ventures into new media was sponsoring coverage of World Dairy Expo coverage by blog here on World Dairy Diary. Mark is also one of the founding members of the AgChat Foundation, which is dedicated to helping farmers and ranchers use social media platforms to connect with each other and advocate for agriculture.
Listen to my conversation with Mark here: Mark Gale Interview
2010 World Dairy Expo Photo Album